Travel
Secrets
Adorno Beach Hotel & Suites: The awarded as best Summer Hotel of Greece welcomes summer on the 20th of May.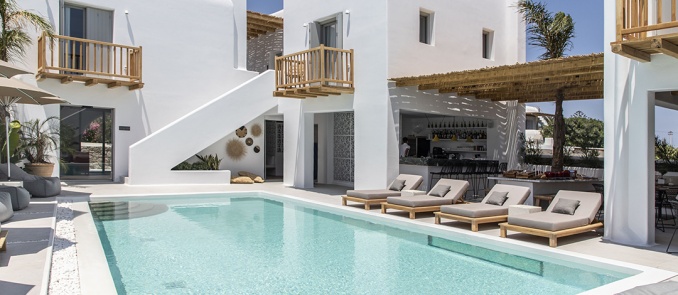 Awarded as the best Summer Hotel of Greece for 2021, Adorno Beach Hotel & Suites opens its doors to loyal and new visitors on the 20th of May. It welcomes them with all safety measures applied, ready to meet the needs of every traveler, thanks to its personalized services and experienced staff.
Feel the vibes of cosmopolitan Mykonos in style
The characteristic bohemian chic style with pergolas, wooden details and retro lightning comes in perfect harmony with the authentic Mykonian architecture. An unexpected combination mirrored on twenty-two rooms, suites and maisonettes, some of them with a private pool. Adorno Beach Hotel & Suites is celebrated for its key sea-front location and the premium standards of hospitality in a 5-star experience. Located at the best spot of Ornos sandy beach, a meeting point for the jet setters and just a few minutes from the vivid Chora, it is the ideal boutique accommodation to enjoy an unforgettable stay in discreet luxury.
This impressive boutique hotel is under the management of Tresor Hospitality, the leading Hotel Management company in Greece.
Discover what privacy really means
Perfect for a romantic couple's break, the Cozy Double Rooms, the Classic Double Rooms with Pool View and the Superior Double Rooms with Sea View, measuring 18-28 sq.m., infuse the island's classic Cycladic white style along with boho-chic touches. The Design Maisonette with Jacuzzi and the Premium Maisonette with Private Pool measuring 50 sq. m. offer luxurious and spacious accommodation for up to 4 guests, while the Summer Suite with Private Pool and the Beach Front Suite measuring 26-37 sq. m. provide guests with supreme facilities.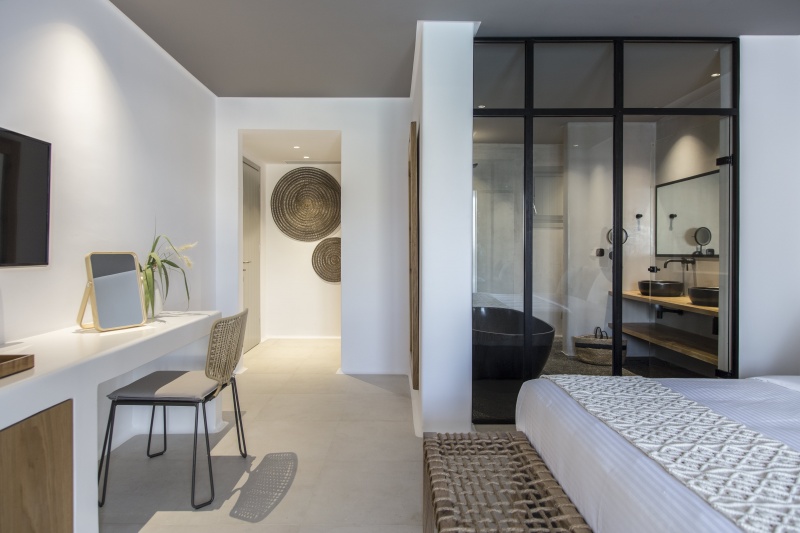 As exclusive, as a luxurious travel experience can be
Personalized services are an additional asset at Adorno Beach Hotel & Suites: guests can enjoy breakfast in bed and meals at the setting of their preference, have a massage at their suite and ask for the personal concierge services. Following all this, new hotel services are coming this year. Guests can keep on with their daily workout in their own room upon request, attend yoga and pilates classes, arrange decorations for a festive event, enjoy Pre-dinner Tequila cocktails every afternoon and Pre-dinner House Signature Cocktails every Tuesday and Friday along with a different menu and special music list.
Providing guests, a safe experience during their stay, Adorno Beach Hotel & Suites strictly applies all appropriate health and safety measures suggested by the European Commission. The hotel is certified with the Greek "Health First" Protocol and applying additional measures to secure even more the health and safety of its visitors.