Travel
Secrets
Adorno Beach Hotel & Suites wins the Summer Hotel of the Year 2021 Award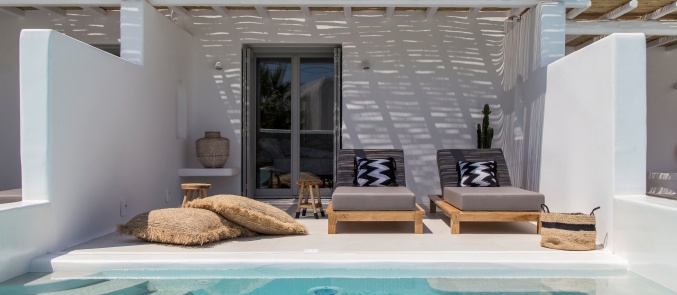 Adorno Beach Hotel & Suites has received a great distinction at Greek Hotel Awards this year. It was announced Summer Hotel of the year 2021 among the best hotels in the country at the Greek Hotel Awards which for three years now have highlighted hotels of unique character of every type and size in every corner of Greece.
This award highlights the uniqueness of Adorno Beach Hotel & Suites where its characteristic bohemian chic style meets the authentic Mykonian architecture. An unexpected combination mirrored on twenty-two rooms, suites and maisonettes, some of them with a private pool. Adorno Beach Hotel & Suites is celebrated for its key sea-front location and the premium standards of hospitality wrapped in a 5-star experience at the famous Ornos beach. It is about to reopen its doors on the 20th of May welcoming new guests and its loyal visitors.
Perched on the best spot of Ornos sandy beach, a meeting point for the jet setters, the property overlooks the Aegean and offers magnificent views from every corner. A few minutes from the vivid Chora of Mykonos, it is the ideal boutique accommodation to enjoy swimming in the beach or private pool, explore the beauties of the island and experience an unforgettable stay in discreet luxury.
The property pays respect to the typical architecture of the Cyclades, blending whitewashed walls, elegant wooden pergolas and pastel-colored shutters. In the interiors, classic island style gets infused with contemporary minimalism, while all-white spaces make an excellent backdrop for some ultra-chic bohemian décor elements, such as retro lightning, woven rugs and wooden details.
Offering stylish double rooms with sea view, supreme suites and maisonettes with Jacuzzi or private pool, Adorno Beach Hotel & Suites, perfectly combines boho chic luxury and iconic style. Perfect for a romantic couple's break, the Cozy Double Rooms, the Classic Double Rooms with Pool View and the Superior Double Rooms with Sea View, measuring 18-28 sq.m., infuse the island's classic Cycladic white style along with boho-chic touches. The Design Maisonette with Jacuzzi and the Premium Maisonette with Private Pool measuring 50 sq. m. offer luxurious and spacious accommodation for up to 4 guests, while the Summer Suite with Private Pool and the Beach Front Suite measuring 26-37 sq. m. provide guests with supreme facilities.
Personalized services are an additional asset at Adorno Beach Hotel & Suites: guests can satisfy their appetite during the day at the setting of their preference, private pool or Jacuzzi, enjoy a massage at their suite, while a personal concierge is always willing to offer insider tips of the island and organize from restaurant reservations to tours with a jeep. In terms of privacy, the tailored Room Service comes to enhance guests' experience offering a memorable breakfast at the comfort of their own bed.