Travel
Secrets
Guests of history at Gerolimenas of Mani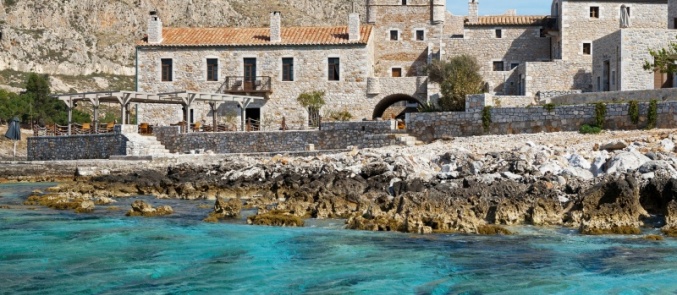 Approaching the southernmost tip of the Tainaro peninsula, the powerful call of the Mediterranean sea will lead you to Gerolimenas, a picturesque harbor that looks like it jumped out of a film, at the granite cape of Cavo Grosso. The "Sacred Port" began as the base of Maniat pirates during the Ottoman domination, and evolved into the most important crossroads of the Peloponnese, commercially linking Syros, Piraeus, Thessaloniki and many other regions of Greece by Theodoros Kyrimis.
In the most beautiful seaside village of Mani, the stone tower stand over the sea, inviting you to get lost in the narrow streets of the historic quarter. The luxurious Kyrimai Hotel is hosted in one of these impressive Towers of Mani.
With almost one and a half centuries of history, keeping the aroma and aesthetics of Mani's traditions in complete harmony with the modern comforts, the award-winning Kyrimai still belongs to the Kyrimis family. It has been awarded as the "Best Greek Historic Hotel in Europe" and took the Golden Award as "Best Greek Heritage Hotel". Also, in 2016 it was honored as "The Most Romantic Hotel of Historic Hotels in Europe" and it was selected as the "Best Historic Gourmet Hotel in Europe for 2018.
Partially translated
Original article by www.travelstories.gr
Follow Trésor Hotels & Resorts on Twitter, Instagram and Pinterest!