Travel
Secrets
Ziria Music Festival 2017: A good reason to climb up the mountains
In the last days of August (24-26), we climb the beautiful path from Xylokastro to the enchanting Trikala of Korinthia and even further on the divine plateau of Zireia for the most exciting mountain summer party, Ziria Music Festival 2017.
Some are still a holiday, others have returned and are looking for a chance to escape even for a while. For those who love music and are open to an August mountain getaway, Zireia, on the southeastern side of the Prefecture of Corinthia, awaits them with a three-hour non-stop open and free music festival, with fantastic bands and producers, with unique alternative activities, friendly to all ages, children and dogs!
Ziria, also known as Killini, is one of the few Greek mountains that has eight peaks of over 2,000 meters and is ideal to host a musical festival, giving you the opportunity to experience a three day full of music and unique alternative activities, all free!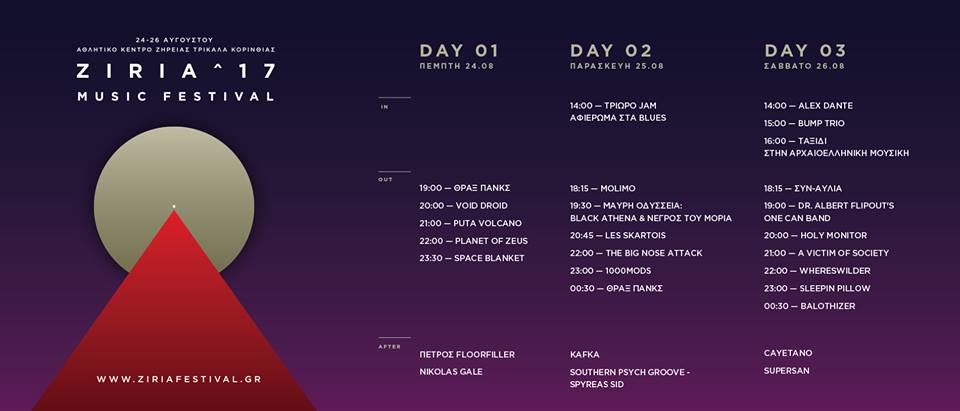 As far as music is concerned, a great musical journey will take place in time and space, from ancient Greek music to modern rock and electronics and from Thrace to Crete and Africa. All this will be performed by twenty-five top bands, from different kinds of independent stage, djs and music producers: Thrax Punks / Void Droid / Puta Volcano / Planet of Zeus / Space Blanket / Petros Floorfiller Kozakos / Nikolas Gale / Molimo / Black Athena and Negros Tou Moria / Les SkartOi / The Big Nose Attack / 1000mods / Southern Psych Groove / Kafka Takes Notes / Alex Dante / Bump Trio / "Syn-Aulia" / Dr. Albert Flipout's one CAN band - aka Mickey Pantelous - / Holy Monitor / A Victim Of Society / Whereswilder / Sleepin Pillow / Balothizer / SUPERSAN / CAYETANO. The program is a marathon but structured in a way so that everyone can enjoy one or even four hours of this year's festival.
Apart from music, however, alternative activities will not miss from the festival, but they will play an important role in this three-day event. In particular:
• Organized descent in the Cave with SPELEO.
• Organized hiking in the Forest with KYLLINIOS ADONIS.
• "Concert" and a presentation of ancient instruments, where the lyre of Mercury, the oldest stringed musical instrument, will be heard again in the place where it was born!
• Yoga Seminar along with basic principles of concentration and meditation with Tasos Schinas
• Open Tai Chi lesson from the "Chinese" Traditional Chinese Art School
• Demonstration of WUDANG KUNG FU and Tai Chi by the School of Traditional Chinese Arts Germany with Lutraki, Kiato and Corinth
• Specially important will be the great gathering of many well-known blues musicians in a special event in the Chalet on Friday 14:00 - 17:00!
Tips
• Do not forget to take warm clothes, closed shoes and a good jacket with you and if you stay in the mountains (recommended!), A sleeping bag and a tent.
• For your mornings, the area offers wonderful walks in Trikala, Karya and the beautiful surrounding areas or for a swim in Pefki in Xylokastro or Lake Doxa.
Follow Trésor Hotels & Resorts on Twitter, Instagram and Pinterest!