Travel
Secrets
Mr. Panagiotis Pantazopoulos in Ethnos newspaper about new jobs in the tourism sector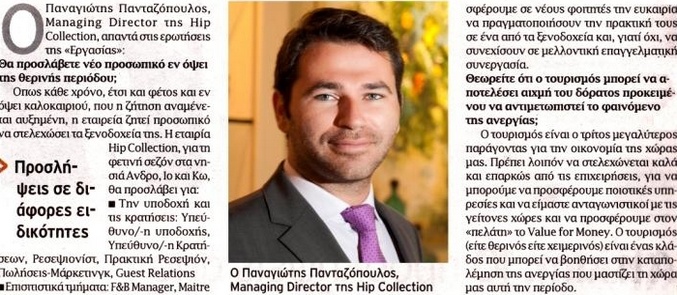 "We are currently recruiting staff for Andros, Ios and kos islands"
Mr. Panagiotis Pantazopoulos - the Managing Director of Hip Collection - gives answers to the questions asked by 'Ergasia' insert of Ethnos newspaper. 
- Will you be recruiting new staff for the upcoming summer season?
The summer season is always high in demands of all sorts, therefore, we are going to be hiring people for our hotels this summer, like we do every year. Hip Collection has already begun the process of interviewing people for the summer season for our hotels in Andros, Ios and Kos islands and for the following positions:
- Reception and Reservations: Front Office Manager, Reservations Manager, receptionist, reception trainees, Sales – Marketing, Guest Relations.
- Food & Beverage Dpt: F&B Manager, Maitre D' Hotel, Captain, waiters Α & Β, Barmen-Barwomen, Sous chef.
- Maintenance: Maintenance Assistant.
- Housekeeping: Floor Manager, maids.
- Spa: Spa Manager, spa therapist, manicurist.
- Are you going to be seeking people through the OAED schemes?
Up to now, none of our hotels has ever hired staff from the OAED programs. We usually recruit our staff from Le Monde Institute of Hotel & Tourism Studies and from the University of Patra (Tourism Management Studies), in order to offer a traineeship in one of our hotels to new graduates and hand them with the perspective of a stable future cooperation with us.
- Do you believe that the tourism sector is at the front line while battling with the issue of unemployment?
Tourism is the third largest factor affecting our country's economy. It is of great importance that enterprises are correctly and adequately staffed so that we can subsequently offer quality services of a high level and be, as competitive as possible, with the neighboring countries handing visitors value-for-money vacations. My answer is that, "Yes. Today, more than ever before, the tourism sector - for both the summer and winter seasons - can and must be at the front line in our battle against unemployment". 
According to particular data we collected while at the world's leading Travel Trade Show - the ITB in Berlin -, tourism seems to be the sole sector in the country today which can pass a positive message for the Greek economy in 2013.
Send your CV at the following e-mail: hr@hipcollection.gr