Travel
Secrets
Trésor Hotels & Resorts in Aggelioforos newspaper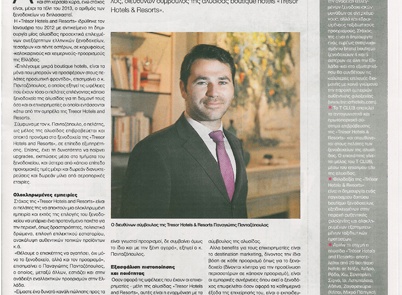 «We discover cherished treasures».
Below follows the article by Depi Chiotopoulou as published in Aggelioforos newspaper on Sunday the 27th of January.
It constitutes a collection of boutique hotels in fifteen Greek destinations - both in the islands and on the mainland - with an aim of doubling the figure of its hotel-members by the end of 2013.  
Trésor Hotels and Resorts was established in January 2012 and lists a handpicked collection of independent 4 and 5 star Greek boutique hotel-members in distinguishably beautiful summer and winter destinations throughout Greece.  
Mr. Panagiotis Pantazopoulos quotes, that «We select and list small boutique hotels which are able to offer a set of personalized services and care to the clients», thus trying to emphasize on the positive aspects that clients will have by making a reservation at one of Trésor's hotel-members alongside the benefits for the hoteliers for belonging to Trésor Hotels and Resorts collection.
According to Mr. Pantazopoulos, if the client also becomes a member of the loyalty club, then a whole set of additional benefits await for them at each and every hotel-member of Trésor Hotels and Resorts, rewarding them and guaranteeing that the firm's clients will enjoy surprising upgrades to their initial booking, a plethora of discounts for receiving additional services within the hotel-members, but also, competitive prices, free overnight stays and free airline miles.
The "overall" traveling experience  
What makes Trésor Hotels & Resorts distinct from other innovative projects, is the fact that among its aims is to offer its clients with a total experience through a notorious portrayal of the hotel-member by including exceptionally smart tips pertaining to their location, the local gastronomy and products, cultural events, suggested spots for dining, wining and nightlife options and, also, through very opportunistic and tailor-made packages to further enhance their will to treasure hunt for an authentic vacation. 
 «We really want our client to not simply love the hotel but also to be enchanted by the destination», says Mr. Pantazopoulos who also focuses on the appointment of alternative destinations across Greece.
He continues by explaining, that «We are a dynamic sales channel between the clients and our hotel-members due to the fact that we participate to pertaining exhibitions abroad, and - in parallel - we present and support alternative and nascent destinations of the country, instead of just the known ones, like for example Trikala of Korinth and Vitina which may well be known destinations for the Greeks but the same does not apply for the clients streaming from abroad»..
Guarantee of certification and quality
As far as the hoteliers are concerned, they also gain by making their property a hotel-member of Trésor Hotels and Resorts, in that they acquire a harmonisation of the level of services with the other hotel-members and ensure certification and quality. «Our collection lists small boutique hotels of up to 60 rooms, where the client will be a recipient of authentic hospitality of high standards", adds Mr. Pantazopoulos.   
Other benefits for the hoteliers include aspects of destination marketing which give the same importance to the location as to the hotel-member. Additionally, through commercial synergies and an educational approach via seminars, there is an aim of enriching the competitive qualities of the hotel manager and the setting up of a communication channel where information about knowledge of the tourist sector and future trends is exchanged in a supportive manner.
Info
- Trésor Hotels and Resorts envisions the running of a network of independent 4* and 5* boutique hotels in both known and evolving tourist destinations in Greece, through a recognisable brand name both in Greece and abroad. The selected hotel – members will constitute top choices that one will select in order to experience authentic hospitality (www.tresorhotels.com).
- The T CLUB constitutes the competitive and innovative loyalty scheme of Trésor Hotels & Resorts which rewards the clients of the hotel-members of the collection. The client can very easily become a member through the official site and without charge.
- The ambition of Trésor Hotels & Resorts is the creation of an international network of boutique hotels specializing in the provision of genuine hospitality and offering tailor-made travelling experiences. 
- Trésor Hotels and Resorts currently lists 20 boutique hotels in the islands of Naxos, Andros, Rhodes, Kos, Santorini, Sifnos, Ios, Astipalaia, but also in Athens, in Zagorochoria in the region of Epirus (northern Greece), in Vitina, Gerolimanas Manis and Trikala of Korinth in the Peloponesse (southern Greece). Upcoming destinations to be covered, include the town of Nafplio (southern Peloponesse), the town of Trikala (Greek Midlands) and the city of Ioannina (northern Greece).
Press here for the original article as published in Aggelioforos newspaper in Greek language.