Travel
Secrets
Trésor Hotels & Resorts in 'Kathimerini' newspaper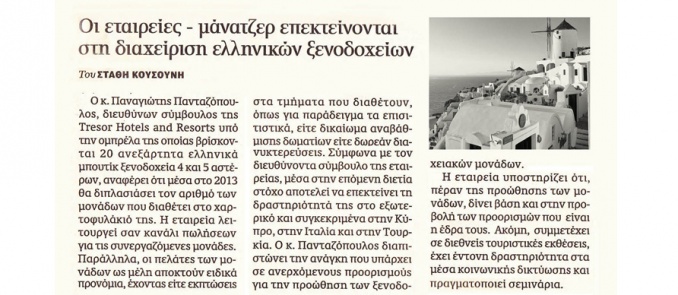 "Management companies are extending their sphere of influence to the Greek Hotel industry". 
The article below was published on the 4th of January in 'Kathimerini' newspaper by journalist Stathis Koussounis.
Mr. Panagiotis Pantazopoulos, the Managing Director of Trésor Hotels and Resorts which currently includes 20 hotel-members in its collection of independent Greek boutique hotels of 4 and 5 stars, reports that within the year 2013 it will double this number of tourist units in its portfolio. The company functions as a sales channel for the collaborating hotel – members.  
In parallel, the customers which have become members of Trésor's loyalty club, receive special privileges during their stay at any of the hotel-members, either by acquiring discounts at various services, such as at the restaurants or by having the ability to get an upgrade in their initially selected room and even gain a free stay according to a particular point system.   
Among the aims of the managing director, is to further develop the hotel-member collection abroad within the next two years and to concretely extend Trésor's activity in Cyprus, Italy and Turkey.
Mr. Pantazopoulos ascertains and notes that there is an extra need of promoting hotel units in emerging destinations.  
The company strongly believes that its competitive advantage also pertains to the rich portrayal and projection of the actual destinations where its hotel-members are located.
Trésor Hotels and Resorts has a dynamic presence in international tourist exhibitions, as well as in the social media and -additionally- it hosts seminars.
Read the article in greek, in kathimerini.gr