Travel
Secrets
Trésor Hotels & Resorts at www.newpost.gr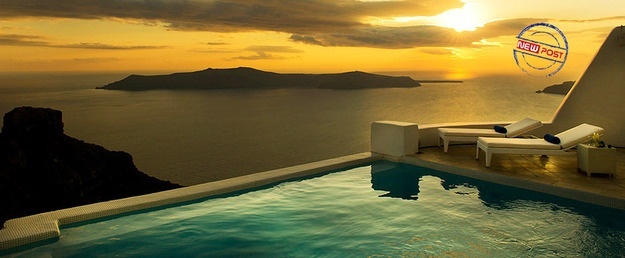 Discovering Greek treasures
Greece offers such a wide range of options that could cover the tastes but also the needs of any type of visitor...even of the most demanding ones. Take your pick, among picturesque islands caressed by turquoise waters under the hot summer sun or feast your eyes to the magnificent beauties of the nature of the inner part of the Greek mainland where gurgling rivers appear suddenly at the foot of imposing mountains.
Our country traditionally connotes to a holiday destination. Somewhere we really want to go in order to relax and unwind. Undoubtedly, the financial crisis has had an obvious negative effect on people's income and has decreased the investment potential of professionals of the sector. But, nonetheless, there are some ambitious projects which indicate that nothing can stop us from envisaging about the country as regards to the dynamic product it presents...that of tourism.
  
Change of paradigm 

Immense importance was given for many years by the state's officials towards the natural beauty of Greece. A beauty which was unfortunately taken for granted. The truth is that a large portion of the tourist and business world of the country also relied wholly upon that fact, which –inevitably- counted negatively towards the whole effort.   
The Tourist sector relied blindly upon the dynamics of «Zorba the Greek» to keep attracting the interest of tourists and visitors from abroad...perpetually. Furthermore, the past and prosperous days internally enabled or even allowed professionals of the sector to increase their prices to surreal levels.
Thankfully, this combination of unprogressive support to the tourist product of Greece together with the 'forbidden" pricing policies by hoteliers, have been replaced -to a great extent- by actions which nowadays combine a contemporary enterprising insight to the sector, as well as, realistic pricing policies which have yielded to tangible luxury. Among the abovementioned actions, we distinguish that of Trésor Hotels & Resorts – the Greek collection of independent boutique hotels which constitutes a pioneering and complex envision about Greek tourism. A firm which during only the first year of operations has managed to stand on its own two feet and successfully accomplish its aims.

Quality, accessible to one and all 


As the firm's name implies, Trésor Hotels & Resorts constitutes the first Greek collection of independent 4 and 5 star boutique hotel-members, which summons up "treasure" hotels in distinguishably beautiful destinations throughout Greece. And if all this sounds as an "elusive dream" for a country in crisis, then it would suffice to mention that the whole project is indeed based on realistic and careful considerations of today's needs and expectations, as objectively expressed by contemporary consumers.   
One of the most crucial aims of Trésor Hotels & Resorts is to guarantee that its hotel-members  prioritize authentic hospitality and ensure exceptional quality of services at the best possible price for the visitor. Additionally, Trésor gives a great deal of importance to the location of its hotel-members having succeeded in securing destinations such as the islands of Santorini, Ios, Sifnos and Andros as regards to The Cyclades, but also the regions of Lakonia and Korinthia in the Peloponnesian peninsula in the South of Greece, as well as Rhodes island and Astipalaia islands in the Dodecanese to mention just a few.   
It is a prerequisite for the hotel-members of Trésor Hotels and Resorts to be located in inspiring areas of Greece which are respectively characterized by their surrounding nature and specimens of Greek cultural. The handpicked collection of boutique hotel-members also ensures high aesthetics in their decors, as well as, services of profound quality at the right price. All-in-all, a mix of factors which yields to an inspirational and innovative getaway / experience for the guest and to increased levels of customer satisfaction. The ever increasing number of tourists worldwide, willing to book a holiday to a hotel that is part of a greater institution has further supported the overall success of the project as such.   

Focusing on the "overall" traveling experience  
What makes Trésor Hotels & Resorts distinct from other innovative projects, is the fact that through a range of marketing and supportive services the firm notoriously portrays each hotel-member, through exceptionally smart tips pertaining to their location, via the daily updated blog of its user-friendly website. Moreover, Trésor Hotels & Resorts presents its own loyalty club called The T Club which -during those especially hard times for Greek tourism- forms a guarantee that the firm's customers will enjoy a plethora of advantages, a set of exquisite personalized services, competitive prices and a unique selection of tailor-made packages to further enhance their will to treasure hunt for an authentic vacation among the Τrésor hotel – members.
Treasures are everywhere out there. All we have to do is discover them!

P.S.
* For the original text source press here 
Source: www.newpost.gr