Travel
Secrets
Mr. Panagiotis Pantazopoulos, Managing Director of Trésor Hotels & Resorts talks to Naftemporiki newspaper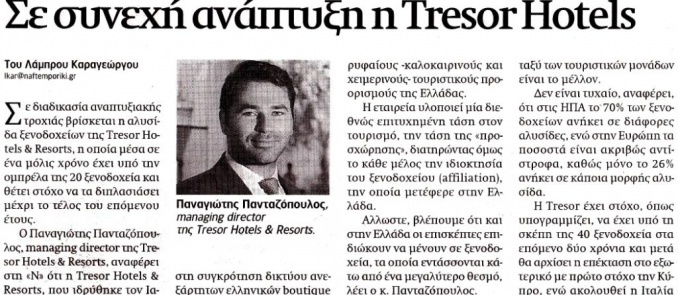 Mr. Panagiotis Pantazopoulos, Managing Director of Trésor Hotels & Resorts explains to Naftemporiki newspaper that Trésor Hotels & Resorts initiated its operations in January 2012 at its offices in the southern suburbs of Athens and specialises in the composition of a handpicked collection of independent boutique hotels, all of which constitute little treasures and located at the top forty most desired tourist destinations in Greece for the summer and winter seasons alike.
The firm espouses an internationally known and appreciated tendency of the Tourist sector which Trésor brought to Greece first. That of creating affiliations without in the least subtracting the independence from each of the hotel – members.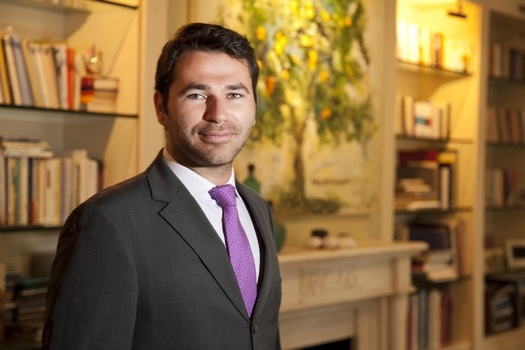 Mr. Pantazopoulos further supports his opinion by quoting, that: "Besides, we have noticed an ever growing number of Greek customers willing to book a holiday to a hotel that is part of a greater institution."
The Managing Director of Trésor Hotels & Resorts strongly believes that the successful future of Tourism clearly lies on the cooperation of tourist complexes between them.
It is not out of chance that 70% of hotels in the USA belong to and operate within hotel chains, whereas in Europe the percentage is inversely proportional with only 26% of hotels following the tendency.
He continues by highlighting Trésor's aim of incorporating 40 hotel-members in its family, stemming from Greek destinations as a first phase before further expanding abroad with Cyprus making it to the top of its list and then Italy and Turkey closely following.   
(by Lambros Karageorgos)