Travel
Secrets
Excursion to the unique geological phenomenon of Meteora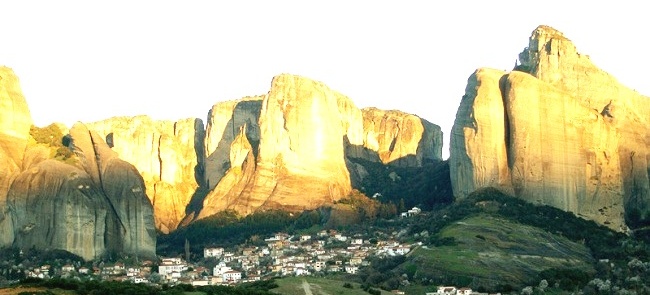 By welcoming Ananti City Resort as a new hotel-member of our collection, a new destination amplifies our imagination and takes us to the natural beauties of the area of Trikala at large and to the glorious plains of Thessaly…
We drive across the region of Thessaly which used to be submerged under seawater hundreds of years ago and this is a fact that only a few people are aware of...Nowadays, we know of the area under the name of Thessalic plains, which are the pride of the Greek midlands with their main characteristic being that of the chromatic differentiations of the cultivations and the geometrical shapes of the arable plots.     
We head at a mere distance of 20 km from the town of Trikala in order to admire the unique geological phenomenon of the rocks of Meteora. The imposing complex of massive rocks were created through the process of erosion of a large conglomeration of stones, sand and mud which was left behind after the water of the massive Thessalic lagoon drained into the Aegean Sea centuries ago.
We capture Meteora through dozens of clicks with our cameras and we are bewildered by the second largest complex of monasteries in Greece which is hosted upon the imposing rocks. The first largest is that of Agion Oros. Six monasteries still operate and since 1988 they are listed among the monuments of international heritage of UNESCO. 
Without doubt, the beauties of the region will keep us captive for at least one long weekend. As far as our accommodation is concerned, we choose the ultra-modern and luxurious Ananti City Resort at the outskirts of the town of Trikala, which offers uninhibited views to the rocks of Meteora and the glorious plains of Thessaly. The resort's contemporary facilities and plethoric services will attract our return again and again in order to discover more of the top attractions of this wonderful region.