Travel
Secrets
Trésor: Join TClub for free and enjoy benefits at the best boutique hotels!
Get informed today about The TClub…the integrated loyalty programme designed by Trésor Hotels & Resorts and at the disposal of its repeating customers.
It is not surprising that more and more firms are setting up and operate a loyalty scheme in order to show their respect to their loyal and repeating customers. Through such a programme, customers feel that they gain more power due to their loyalty and they are rewarded with unique benefits.
For our friends and customers who are not already acquainted with the successful operation of Trésor's loyalty scheme and, moreover, that becoming a member is absolutely free, keep reading! The most important reason to become a member of The TClub today, is that even from your first stay at any of our hotels you will automatically be entitled to several benefits which will progressively increase in number and intensity, as you win points and move upwards on the member category rank.  
If you adore being rewarded and getting an unexpected room upgrade would put a smile on your face, then you will equally enjoy your welcome drink and complementary basket upon arrival at our affiliated hotels, the unique discounts for services, and, of course, the free overnight stays…The table below gives you an overview of the privileges per membership category. There are 3 categories altogether. Alternatively, and for a more detailed presentation, please press on the links below. 
White Tresor Member | Gold Tresor Member | Black Tresor Member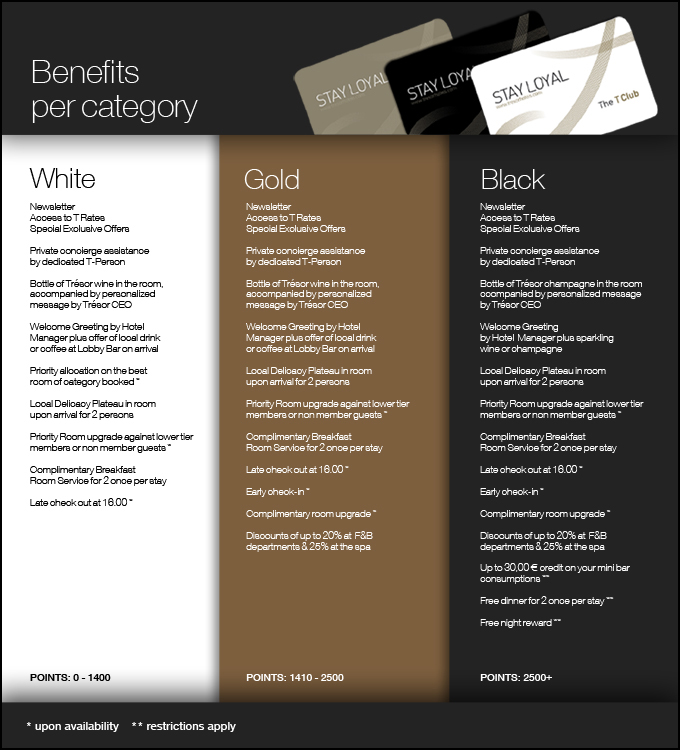 Register today and become a privileged member of Trésor by pressing here. It is absolutely free!
We wish you countless, joyful trips and numerous, authentic traveling experiences.
Friendly regards,
Trésor Hotels & Resorts
Follow Trésor Hotels & Resorts on Twitter and Pinterest!