Travel
Secrets
We visit Ios and indulge in the island's awarded cheeses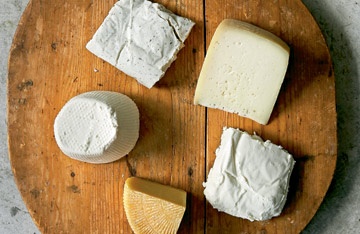 This Cycladic island of mesmerizing beauty, is bound to equally tantalize us with its locally produced, delicious and awarded cheeses!  
We discover and indulge in the distinctively delicious cheeses of the island of Ios, which are listed among the most interesting of the Cycladic islands.
"Νisiotiko Kefalotiri cheese": Hard cheese mainly produced of goat and sheep milk from locally raised animals. Its recipe has been evolving for thousands of years and it has been awarded, while it also enjoys the support of Slow Food as a traditional cheese.
"Graviera cheese": Hard cheese mostly made of cow milk. It will deliciously garnish every dish of the exquisite cuisine of the Aegean islands.
"Xino cheese": Soft white cheese with a light sour taste. We usually use it to make a "dakos" salad that consists of a traditional Cycladic crisp bread, tomato and capers. 
"Skotiri cheese" Soft cheese with a spicy taste that derives from the mountainous areas of the island. In essence it is a combination of "mizithra" and 'kefalotiri". On the 1st of November 2008 it won the Golden Award at the 1st Greek Cheese & Delicatessen Festival "Scent and Taste of Greece" and also the Gourmet Award 2009 – 2010. Gourmet Magazine of Eleftherotipia newspaper in its 78th issue, June 2010, commented on "Skotiri": "spicy, rich and dynamic, an exquisite cheese worthy to be included in the list of every restaurant".
"Mizithra cheese": Soft and light cheese that you will love for its top quality and its delicious taste. While visiting Ios island, do not omit to try the "mizithra pies" as well as the fresh pasta topped with graded mizithra cheese. Given that this type of cheese is a fresh dairy product, it is always soft in texture and relatively unsalted. It has won a Gourmet Award 2009 – 2010 and Gourmet Magazine of Eleftherotipia newspaper in its 78th issue, June 2010, commented on "Mizithra": "a cheese with a very good texture, light but with a dynamic and durable aftertaste".
For your accommodation arrangements, make you reservation at Ios Palace Hotel & Spa which is located at the awarded beach of Mylopotas. Here, you will be informed about the locally sourced products and the right places on the island for your food shopping.
For reservations please dial 0030 210 8981884.