Travel
Secrets
Trikala of Korinth: Nightlife with a view to Mount Ziria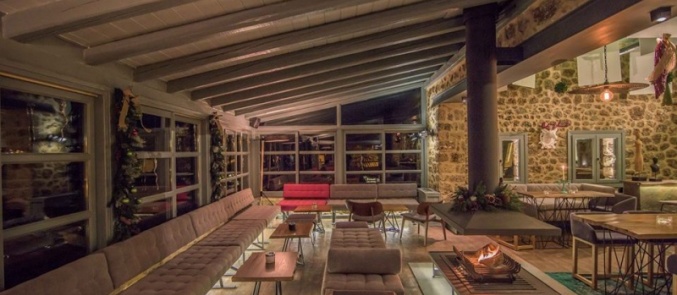 After a full day of discovery and exploring the top sights in Trikala of Korinth, the popular mountainous destination a breath away from Athens invites us for a drink at its atmospheric bars with a view to Mount Ziria.
Pliadon Gi bar
At the bar-restaurant of Pliadon Gi, the best mountain resort of Trikala of Korinth, you can enjoy your warm beverage, your favorite drink or even a cocktail, with the magnificent view to Ziria and the nature of the area. Relax enjoying the warm and elegant atmosphere and do not miss the Greek creative cuisine of the restaurant's chef.
900 meters
Atmosphere, good music and an altitude of 900 meters. 900 meters bar is the new arrival in Trikala of Korinth and an ideal place for lovely atmospheric nights in one of the best winter destinations in Greece, just a breath away from Athens. The mountainous personality of 900 meters will welcome you, as its name is totally connected to the altitude it is located at. The stone walls of 900 meters bar harmoniously connect to the natural environment of Ziria. Inside, strong colors and contemporary design pleasantly surprise visitors, creating the ideal setting to enjoy a hot beverage in the morning or your favorite drink during sunset.
Lithino
Cozy cafe-bar at the middle settlement of Trikala of Korinth, where you can have your drink and delicious home made desserts, in a warm atmosphere where wood and rock dominates. Plus, from here you can admire the view of the snowy landscape from your window.
To Tzini
Traditional café of the village with fine local products at the central square of Middle Trikala of Korinth.
Accommodation
For your stay in Trikala of Korinth, choose Pliadon Gi Mountain Resort & Spa. Enjoy a relaxing holiday in the mountainous nature of Trikala and live the cosy, authentic hospitality of a hotel that seems like a stone-built village, embraced by the wild nature. 

Follow Trésor Hotels & Resorts on Twitter, Instagram and Pinterest!