Travel
Secrets
Dreaming of a white Christmas in Athens? Fetch those skates and head to your nearest ice-skating rink for a start !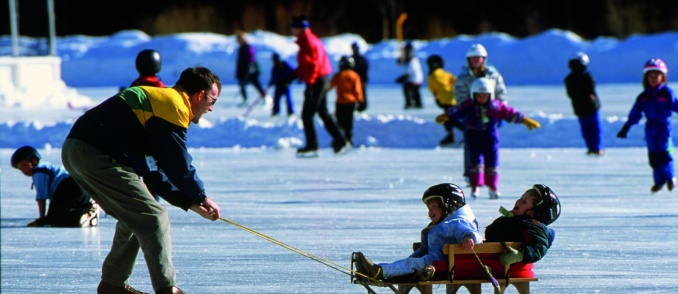 Chances are that there is a skating rink near you and you don't even know it! So, don't delay, fetch those ice-skates and hit the rink for an amazing and fun adventure on ice...
The set up of ice-skating rinks constitutes a common practice for any metropolis around the world, especially as part of the festive countdown to Christmas and the New Year.
The city of Athens follows this tendency again this year by setting up its own string of ice-skating rinks in various central points, within commercial centres but also in main squares of the city aiming to put you in a festive mood and motivate you to keep dreaming of a White Christmas!  
Here is a list of the most interesting points to go ice-skating:
- Syntagma Square in the heart of the capital and with views to the Greek Parliament: The rink plots over 200 sq. meters and will start functioning as of the 11th of December. Good news is, that It is free for everyone! 
- Rendi Village Park in the western suburbs of the city of Athens: It is certainly the biggest rink of all with a dimension of 600 sq. meters. Open till very late in case you fancy an ice-skating session after work and Christmas shopping.
- Ice-skating rinks will also operate in Alsos Peristeriou and within the Escape Mall in the area of llion, both of which are located in the western suburbs of Athens, as well as in Kosmopolis Mall in the area of Maroussi in the northern suburbs.   
- You will find the largest covered ice-skating rink within the commercial Mall Athens Heart in Piraeus Avenue, but still, if you want to remain in the center of the city then your best option is the rink in Zappeio just off the National Gardens. Head east for the Santa Claus Kingdom ice-skating rink in the area of Peania, north for the rink within "Aidonakia" amusement park in the area of Maroussi and south for the rink which is set up at Passalimani marina, as well as the one in the square of the area of Nea Smirni.  
- in the next few days, we expect the opening of the ice-skating rink of Technopolis in the area of Gazi which is expected to attract the public that mainly lives and works in Athens city centre, as well as people from the western and southern suburbs of Athens due to its nodal location.