Travel
Secrets
Vathia: A unique castle town in Mani
The unique castle city of Vathia stands proudly like an acropolis on the top of the hill and reveals itself after one of the corners of the road, offering visitors one of the strongest surprises in the area.
With panoramic views of the lacy shores on one side and the imposing mountains on the other, restored towers, mansions, churches, olive groves and alleys, are crowned at the top, forming a fortress city that exudes an aura of older times.
The historical sources begin mention in Vathia in the middle of the 16th century, but the settlement was shaped as it is today from the 18th century onwards, with the 19th century being the period of prosperity in the area. In fact, the settlement back then had 300 residents, who were engaged in cereal cultivation, livestock farming, hunting, and piracy!
Vathia is deservedly one of the most photographed villages of Mani. The landscape resembles a painting and stands out for its imposing charm. It is located 15 km from Gerolimenas and 37 km from Areopolis.
Accommodation
 the most romantic historic hotel in Europe, Kyrimai Hotel, invites you to unforgettable summer breaks by the sea of Gerolimenas. Housed in a fully restored nineteenth century building complex, just off the southernmost tip of Mani, in rural Greece, Kyrimai Hotel combines traditional architecture with modern comfort. Enjoy magical summer weekends from 220 euro.
Price includes:
2 nights for 2 persons
Breakfast
Free Wi-Fi
All taxes

The hotel's rooms face Mani's crystal-blue sea as well as its glorious landscape, while its one-of-a-kind menu embraces local elements that have stood the test of time, but with a modern twist. As it has been built so close to the sea, Kyrimai offers its visitors a unique experience, in that they can be almost literally lulled by the waves that hit the shore right next to the hotel grounds. The view of the crystal blue sea is a constant, while swimming in the Maniot sea is a joy you will not be likely to forget anytime soon. Its rooms combine traditional materials such as wood and stone, with modern, elegant furnishing, but also wonderful vistas of the surroundings.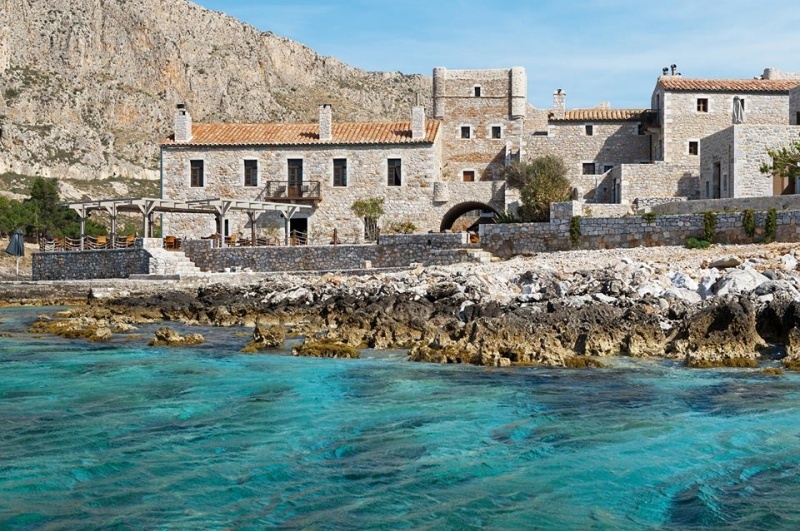 Follow Trésor Hotels & Resorts on Twitter, Instagram and Pinterest!